Which of these molecules are linear? Check all that apply.

Answer:
Hybridization of the molecules can be found by counting the number of groups surrounding the central atom of the molecule.

A lone pair of electrons is also considered as a group.
According to the VSEPR theory, molecular geometry may change due to presence repulsions between bonded pair electrons and lone pair of electrons and they are arranged as follows.

The linear molecules are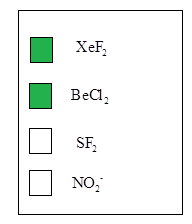 According to the VSEPR theory, molecular geometry may alters due to presence repulsions between bonded pair electrons and loan pair of electrons.Molecular geometry has been given according to their hybridization, which was found in step 1. Therefore, the linear molecules are from the given molecules