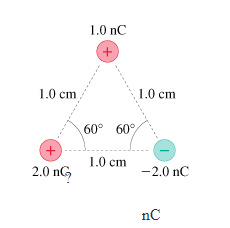 What is the force F? on the 1.0 nC charge in (Figure 1) ?
Determine the magnitude of the force F?
Determine the direction of the force
Concepts and reason
Electrostatic force, sometimes known as Colombian force is the attraction and repulsion between two objects carrying net charge. It can be attractive or repulsive in nature depending upon the charge involved.
For like charges, the force is repulsive and between unlike charges the force is attractive in nature.
Fundamentals



Here, k is the proportionality factor and possess a constant value for a medium.


Answer:
Consider three charges placed at the corners of an equilateral triangle.
Let the direction of positive x- axis be along right and positive y-axis be upwards.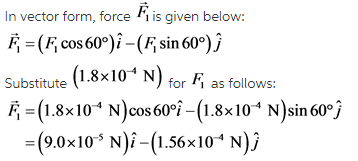 Explanation:
The magnitude of electrostatic force is directly proportional to the product of the magnitude of two charges and the direction depends on the sign of the charges involved.