Rama tested the solubility of four substances at different temperatures and recorded the following observations regarding few gram of each substance dissolved in 100 g of water to form a saturated solution.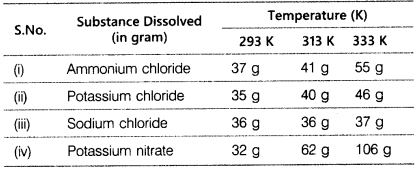 Which soution is least soluble at 293 K?
Which substance shows maximum change in its solubility when the temperature is raised from 293 K to 313 K?
Find the amount of ammonium chloride that will separate out when 55 g of its solution at 333 K is cooled to 293 K.
What is the effect of temperature on the solubility of a salt?
What mass of sodium chloride would be needed to make a saturated solution in 10 g of water at 293 K?