What is presbyopia? What causes presbyopia? How is presbyopia corrected?
Answer: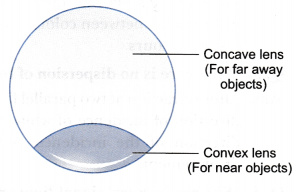 The power of accommodation of the eye decreases with ageing. For most people, the near point gradually recedes and the far point comes closer. This defect is called presbyopia.
It arises due to the gradual weakening of the ciliary muscles and diminishing flexibility of the eye lens. Such a person may suffer from myopia and hypermetropia. This defect is then corrected by using bi-focal lenses of suitable focal lengths. The upper part of the lens is concave lens which corrects myopia to see the distant objects clearly, while the lower part of the lens has convex lens which corrects the hypermetropia to see the nearby objects clearly.