The stress-strain graph for a metal wire is given in figure, upto the point B, the wire returns to its original state O along the curve BAO, when it is gradually unloaded. Point E corresponds to the fracture point of the wire.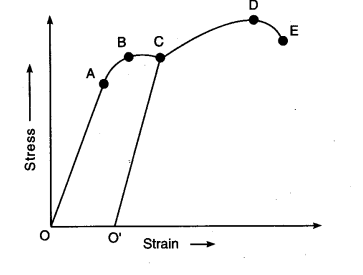 (a)Upto which point of curve, is Hooke's law obeyed ? This point is also called 'Proportion limit'.
(b) Which point on the curve corresponds to elastic limit and yield point of the wire ?
© Indicate the elastic and plastic regions of the
stress-strain curve.
(d) What change happens when the wire is loaded upto a stress corresponding to point C on curve, and then unloaded gradually ?