Select the vibrations that should be infrared active.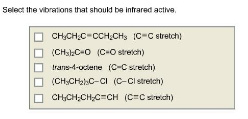 Concepts and reason
Vibration spectrum is the spectrum occursfrom the transition induced between the vibrationalenergy levels of a molecule. These spectra occur in the spectral range of 4000-500 cm-1. Compounds that have permanent dipole moment are IR active.
Fundamentals
Main criteria for molecules to show an infrared spectrum is that the dipole moment of the molecule must change during vibration.Change in dipole occurs mostly in asymmetric molecules.
Molecules that possess permanent dipole moment are IR inactive.
Answer:


This is a symmetric molecule, so this molecule shows no dipole moment.
This is aasymmetric compound, so it has dipole moment.



This compound is symmetric, so it shows zero dipole moment.
Explanation:
Dipole moment is related to polarity of the bond. During vibration, polarity occurs in asymmetric molecules. For checking the molecule's dipole moment,first,we have to check the symmetry of the molecules.
Symmetric compounds have no dipole moment.Asymmetriccompounds have dipole moment.
Explanation: