Select all of the equatorial atoms on the structure below. You may need to rotate the molecule to see all the atoms.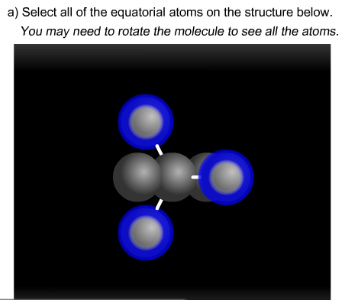 Concepts and reason
Predict the shape of a molecule on the basis of number of electron pairs around the central atom. The shape varies based on repulsive interactions between the electron pairs.
Fundamentals
Electron pairs around a central atom are classified as bond pairs and lone pairs. Interaction between lone pairs is the highest. The shape and geometry of different combinations of electron pairs is given in the table below:
Table for molecular and electronic geometry:

Answer:
part A


The labeled atoms are equatorial atoms in the structure.
Explanation:
In the given structure, six atoms are present- one central atom and five surrounded atoms. They form the trigonal bipyramidal geometry. The three atom lies on the plane and makes an angle of 120o with central atom. These atoms are called equatorial atoms.
part B
The shape of the given molecules is trigonal bipyramidal.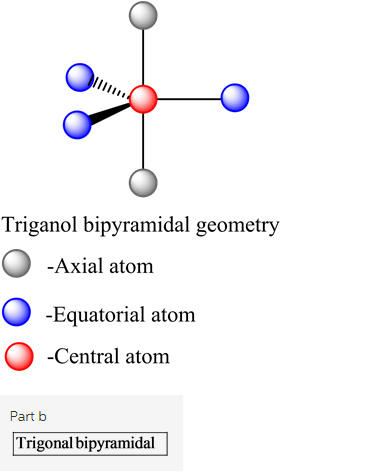 Explanation: