predict whether the following compounds are soluble or insoluble in water?

Concepts and reason
The problem is based on the concept of solubility of compounds. In an aqueous solution, compound is soluble if it gets completely dissociated into its constituent atoms. For example, NaCl is soluble in water because it exists as

ions in aqueous solution.
Fundamentals
The property of solubility is defined as any gaseous, liquid or solid substance dissolved in any solvent that is, gaseous, solid or liquid. There are various compounds that can be soluble in any one like liquid and can be insoluble in the other compound like gas. Therefore, different compounds have different solubility in various solvents like water.
Answer:
All the

bromides are insoluble but all other bromides other than this are soluble.
With the help of a ruling table of different compounds, they are distinguished into the soluble or insoluble category. The table is as follows: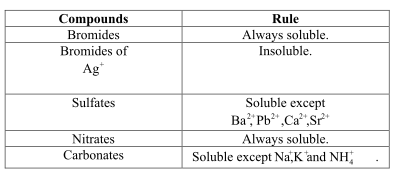 In water, the molecules of the compounds are soluble and so they would dissociate into their ionic forms. Therefore, if the ions would dissociate then, they are soluble in the solvent otherwise, they are insoluble.