Observe the figure given below and answer the following questions.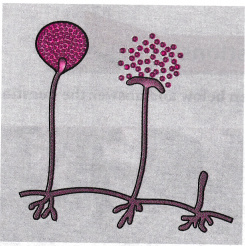 Name the microorganism and the group to which it belongs.
Name the food item on which the organism grows.
Does it grow well in dry or in moist conditions?
Is it safe to eat infected bread?
Answer:
Bread mould. It is a fungus.
Moist and stale bread.
It grows well in moist conditions.
No, the fungus spoils the bread by producing poisonous substances.