1 How does the atomic radius change as you go
from left to right in a period?
down a group in the periodic table?
2 Two elements X and Y have atomic numbers 12 and 16 respectively. Write the electronic configuration for these elements. To which period of the Modern Periodic Table do these two elements belong? What type of bond will be formed between them and why?
Atomic radius decreases.
Atomic radius increases.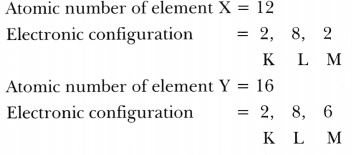 The period number of an element is equal to the number of electron shells in its atom. These two elements have 3 electron shells, therefore they belong to 3rd period.


They will form ionic hond because X is a metal and Y is a non-metal. X loses two electrons which ' will be gained by Y.