Explain the formation of volcanic mountains with the help of an example.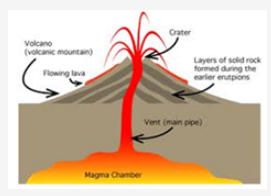 Volcanic Mountains are formed due to volcanic eruptions. It happens when molten rock or magma under the surface of the Earth erupts. When magma flows out on the Earth's surface it is called lava. The accumulation of lava and its subsequent cooling down results in the building of a volcanic mountain.
Mount Kilimanjaro in Africa and Mt. Fiji in Japan are examples of volcanic mountains.