Draw the neutral organic products.
Concepts and reason
The concept used to solve this problem is

. The substrate is a secondary alkyl halide and the nucleophile is strong. Elimination product is also possible to form in this reaction.
In ,

the attack of nucleophile takes place from the back side, so inversion of configuration takes place in the product.
Fundamentals


reaction is a single step reaction. The rate of the reaction depends on both concentration of substrate and concentration of nucleophile.
E2 mechanism is favored by strong, negatively charged bases, especially OH- and OR-.
The reaction occurs with primary, secondary and tertiary alkyl halides. So, the order of the reactivity would be tertiary > secondary > primary. In E2 mechanism, all the bonds are broken and formed in a single step.
Answer: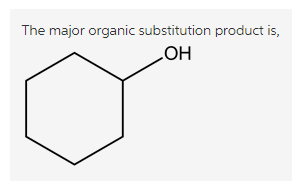 Explanation:
Treatment of bromocyclohexane with a strong nucleophile, hydroxide ion, gives cyclohexanol. Here, the hydroxide attacks from the back side of the carbon having leaving group, the C-Br bond cleaves and forms new C-O bond in the product.
The reaction is as follows:


Explanation:
Treatment of bromo cyclohexane with a strong base, gives cyclohexene. Here, the base abstracts the beta hydrogen atom and forms a double bond in the product.