Construct a rhombus ABCD, whose diagonals are of length 6 cm and 8 cm. Also, write the steps of construction.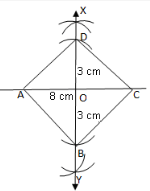 Steps of construction:
a)Draw AC = 8cm.
b)Draw perpendicular bisector XY of AC meeting AC at O.
c)From O cut off OD = 1/2 × 6 cm = 3 cm along OX and OB =1/2 × 6 cm =3 cm along OY.
d)Join AB, BC, CD, and DA.
ABCD is the required rhombus.