(a) List two reasons for the appearance of variations among the progeny formed by sexual reproduction.
(b)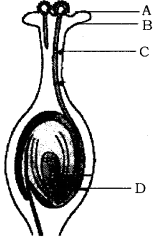 Name the part marked 'A' in the diagram.
How does 'A' reaches part 'B'?
State the importance of the part 'C'.
What happens to to the part marked 'D' after fertilisation is over?