In cumulene, what are the C=C=C and H?C?H bond angles, respectively?
Enter the C=C=C bond angle followed by the H?C?H bond angle separated by a comma.
Concepts and reason
In organic chemistry, cumulenes are the special class of hydrocarbon atoms in which the structure has three consecutive double bonds in its hydrocarbon chain. Cumulenes are analogous to the allenes. Butatriene is the member of this class of cumulene compounds.
Fundamentals
The structure of cumulene is given below: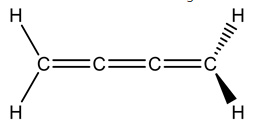 The structure of cumulene has plane containing one terminal carbon is perpendicular to plane containing another terminal carbon.
Answer:
The bond angle is labeled for cumulene, and it is depicted below: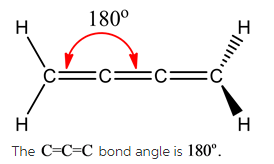 In the cumulene molecule, the internal two carbons are sp hybridized and terminal two carbons are sp2 hybridized. Since the shape of these three carbons is linear, the C=C=C bond angle is

The bond angle is labeled for cumulene, and it is depicted below:



The terminal carbons are sp2 hybridized; and according VSEPR theory, the carbon is trigonal planar. Therefore, the bond angle is