For A products, time and concentration data were collected and plotted as shown here. Determine the reaction order, the rate constant, and the units of the rate constant.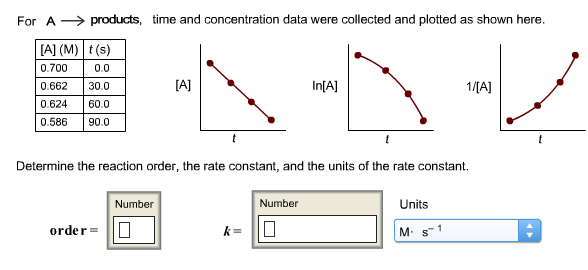 Concepts and reason
This problem is based on the concept of rate of reaction and order of a reaction. Rate of reaction is defined as the rate of disappearance of reactants or rate of appearance of products with change in time. The order of a reaction is the number of reactant molecules taking part in the reaction.
Fundamentals
Consider a hypothetical reversible reaction:



Rate of reaction for the above reaction is given as follows:

number of moles of B, c is the number of moles of C, d is the number of moles of D.
According to the Rate law, rate of the above reaction can also be given as:



Order of the reaction is the sum of the powers of the concentration of the reactants.
Therefore, the order of the reaction is a + b.
Answer:
A
The given reaction is as follows:



Since the plot of [A] Vs time gives the straight line, the given reaction is a zero order reaction.

B
Initial concentration,

= 0.700 M
Concentration of A after 30 secs,

= 0.662 M
According to zero order reaction, rate constant is given as follows: