Figure 1 of 1 Cumulene What types of orbital overlap occur in cumulene?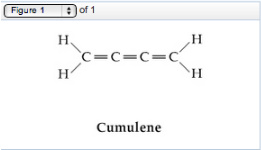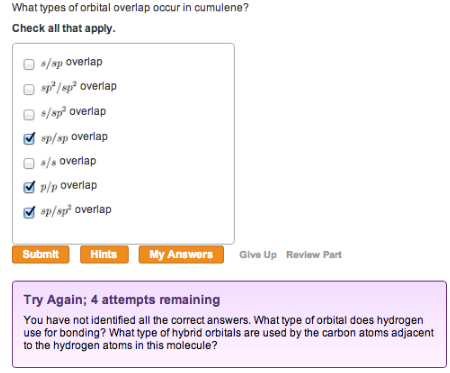 Answer:
Concepts and reason
Orbital overlapping concept is used for explaining the concept of bonding between the atoms in the molecules. These overlaps are classified into two types based on their orientation of orbitals in the atoms.
End-on-end overlaps, gives a strong sigmabond
Side-ways overlaps, gives a partial bond; these overlaps are named by their orbitals.
Fundamentals
Hybridization: Hybridization is a concept, which explains the mixing of individual orbitals to get hybrid orbitals that are responsible for bonding.
Hybridization of an atom can be explained by the number of sigma bonds attached to that atom.
Considered an atom is a carbon.


Part B
The structure of the cumulene is shown below.



From the given structure, it is clear that there are two different carbon atoms according to the hybridization. Inner carbons are having sp hybridization while the terminal carbons are having

hybridization.



From the structure, it is clear that two different hybridized carbon atoms are present. Two terminal hydrogen atoms are in

hybridization, since the carbon atom is having 3 sigma bonds attached to it. In the same way, two internal carbon atoms are present in Sp hybridization, since the carbon atoms are having two sigma bonds attached to it.
Pi-bonds, which are shown in the structure, are formed during the side-ways overlap of vacant orbitals present in the carbon atoms.


The given compound structure is shown below.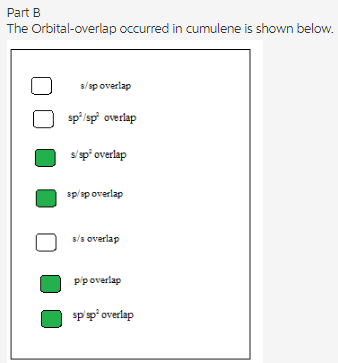 All types of orbital-overlaps have been given for the structure cumulene, based on their hybridization and the presence of vacant p-orbitals. There are four types of orbital-overlaps present in the structure.