Complete the drawing of the product of the Diels-Alder reaction, ignoring stereochemistry.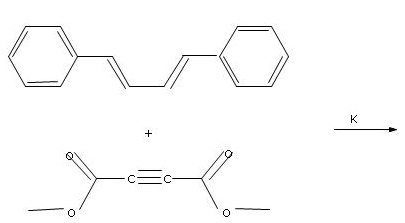 Concepts and reason
Diels-Alder reaction is an example of cycloaddition reaction. In which two different pie bond containing molecules react with each other and a new cyclic compound is formed.
Fundamentals
The Diels-Alder reaction also known as [ 4 + 2 ] cyclo-addition. In this reaction, two things are important, one is diene and another is dienophile. The diene is a conjugated system and the dienophile can be an alkene or an alkyne. The diene is an electron rich species and the dienophile is an electrophile (electron deficient species).
The diene must be in S-cis conformation and as the electron density in dienophile decreases its reactivity is increases. It is a concerted reaction, that is, bond breaking and bond forming occurs simultaneously. The general mechanism of Diels-Alder reaction is as follows:
Answer:
In the first step, marked the diene and dienophile.
The diene and dienophile is as follows:

Explanation:
The diene is the conjugated system and the electron rich species. The 1,4-diphenylbuta-1,3-diene is the diene. The alkyne is dienophile. The dienophile is electron deficient species and the two ester groups present in dienophile make the triple bond electron deficient.
The reaction between diene and dienophile is as follows:


Explanation:
In the reaction, diene reacts with dienophile. Diene attacks the electron deficient dienophile. In this reaction, two pie bonds are replaced by two sigma bonds and 4 pie electrons of diene and 2 pie electrons of dienophile interacts with each other.