Classify the following substances as diamagnetic or paramagnetic based on its magnetic properties. Drag the appropriate items to their respective bins.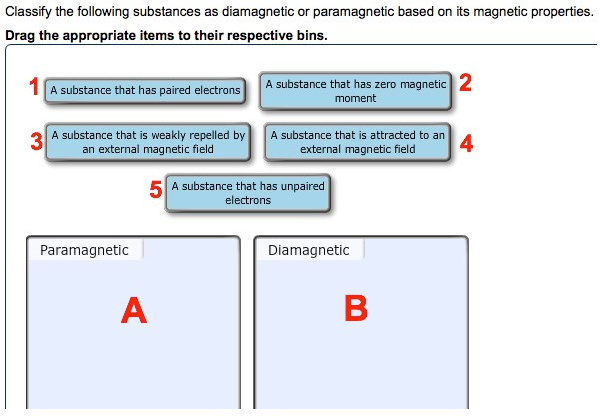 Concepts and reason
This problem is based on the classification of materials into diamagnetic, or paramagnetic materials based on their magnetic properties.
Fundamentals
A diamagnetic substance has paired electrons in its atom. As the electrons spin in opposite directions, the magnetic dipole moment of the paired electrons in an orbital cancel each other, and there is no net magnetic moment. Thus, the atom is not attracted into a magnetic field. However, they are weakly repelled in a strong magnetic field.
A paramagnetic substance has one or more than one unpaired electron in its atom. As the unpaired electron spins, it generates a magnetic dipole moment. Hence, it shows magnetic moment and is attracted by an external magnetic field.
Answer:
In diamagnetic substances, the atoms have all paired electrons. There is no unpaired electron present. They have zero magnetic moment due to the filled-up orbitals having 2 electrons which have opposite spins. It is weakly repelled by external magnetic field due to the absence of unpaired electrons.
Paramagnetic substances contain unpaired electrons. Thus, they possess non-zero magnetic moment. They are strongly attracted towards external magnetic field in order to get magnetized.