Charged Capacitor and Resistor
Learning Goal:
To study the behavior of a circuit containing a resistor and a charged capacitor when the capacitor begins to discharge.
A capacitor with capacitance C is initially charged with charge q. At time t=0, a switch is thrown to close the circuit connecting the capacitor in series with a resistor of resistance R.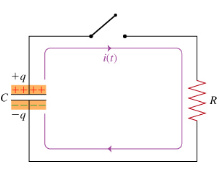 What happens to the charge on the capacitor immediately after the switch is thrown?
Answer:
Motion of the charge particles immediately after the switch is thrown:
The charge stored in the negative plate of the capacitor (electrons) eventually passes through the resistor and neutralizes the charge on the positive plate.