An aircraft is flying at a constant altitude with a constant speed of 600mi/h. An antiaircraft missile is fired on a straight line perpendicular to the flight path of the aircraft so that it will hit the aircraft at a point P. (The intersection in a perpendicular line) At the instant aircraft is 2 mi from the impact point P the missile is 4 mi from P and flying at 1200 mi/h. At that instant, how rapidly is the distance between missile and aircraft decreasing?
Answer:
To solve this problem, we have to find the formula for the distance between the aircraft and a missle with respect to time.
First, convert given speeds to miles per second.

Now, let "this instant" be defined as t=0 seconds. At this instant, distance of aircraft to the impact point P is 2 miles and distance of missle to point P is 4 miles.
After t seconds distances of objects to impact point P is: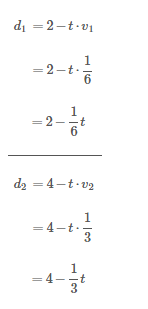 Now we know the distances of both object to impact point after t seconds so we can find the distance between them after t seconds. Remember that pathlines are perpendicular so we can use Pythagorean Theorem: