A rocket is being launched straight up. Air resistance is not negligible. Draw a free-body diagram for the rocket. Draw the force vectors with their tails at the dot.
A rocket is launching upwards. The force acting on the rocket to move upward is F. The forces acting opposite to thrust are weight and drag force. The drag force is due to the air resistance. In order to move upwards the thrust force must be greater than weight and drag force. Figure shows the free body diagram of rocket at the time of launching.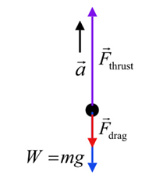 Answer: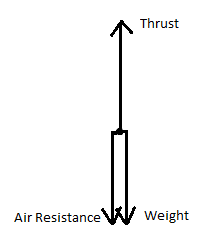 There are only three forces: weight (always present), thrust (provided from the rocket's engines to lift it up) and air resistance (said specifically to be not negligible). There are no horizontal forces.