A pool is shaped like a rectangle with a length 4 times its width w. What is an expression for the distance between opposite comers of the pool?
Answer:
If we split the pool diagonally, we obtain two right triangles with the "width" and "length" of the pool as legs of the triangle.
The distance between opposite corners of the pool is the length of the diagonal of the triangle. Use Pythagorean Theorem to evaluate the distance: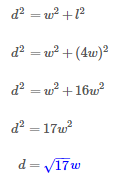 So, distance is 17−−√w.